WELCOME TO TENNIS-UPDATE.COM
Your best choice for all of the most detailed and up to date information you will need about the world of professional tennis. We have it all here, whether it's news on the latest tournaments, the ATP and WTA rankings or details about one of the top players in the game. You will find everything you are looking for at tennis-update.com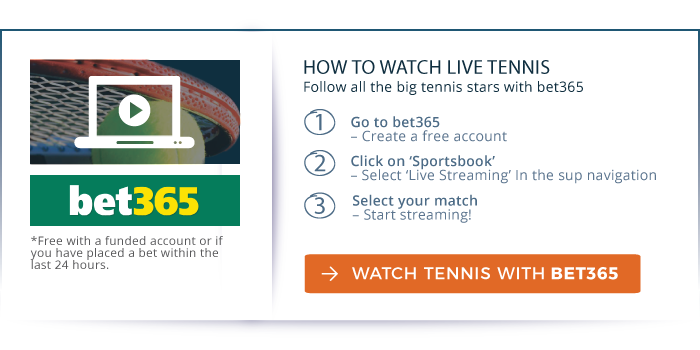 Terms & Conditions
* IMPORTANT NOTICE – Tennis-Update.com in partnership with bet365 offer over 40,000 live streamed events per year. However, please note that the intellectual property rights to stream such events are usually owned at a country level and therefore, depending on your location, there may be certain events that you may be unable to view due to such restrictions. Prior to joining bet365 and funding your account therefore in order to view any particular event via the bet365 live stream, you are strongly advised to first check with bet365 that, given your country location, you would be eligible to view the live streamed event in question. bet365's contact details can be found by clicking
here
, then clicking 'Services' at the top right of the page, and then choosing the 'Contact Us' option.
The excitement within the Tennis world is building as both the ATP and WTA get a new season under way. 2016 gets properly started with the first Grand Slam tournament of the year, The Australian Open, from January 18th until the 31st. Novak Djokovic and Serena Williams will be looking to make a successful defence of their titles, but will face stiff competition. In the men's draw it will be the Brit Andy Murray, Swiss legend Roger Federer and a resurgent Rafael Nadal trying to wrestle Djokovic from atop his perch. The women will all be gunning for Serena, with Simona Halep, Garbine Muguruza and Maria Sharapova amongst those clipping at her heels. After the action Down Under, the season will progress through a series of tournaments including the other three Grand Slams. The French Open at Roland Garros is from May 22nd until June 5th, The Wimbledon Championships from the 27th June until the 10th of July and The US Open from 29th August until 11th September. As well as these, there are several big money tournaments that build up to the end of season Finals in London (ATP) and Singapore (WTA). Also, this year will see the best players in the world of Tennis go for gold at the Olympic Games in Rio. Every one of these tournaments and more will be covered by our expert writers to keep you up to date and informed of all the winners and losers during the 2016 Tennis season.
You can learn all there is to know about the game of Tennis here. Learn the rules, techniques and history of the game as well as details about courts and equipment. There is also a glossary of terms to help you understand Tennis talk a little more.
Are you fan of Roger Federer, Novak Djokovic or Rafael Nadal? Here you can read all about the top tennis players, their history, their current rank and general information.
Wimbledon, Australian Open, US Open: we have got them all listed here for you! Read all the important information about the top Tennis tournaments from across the world.
---
 NOVAK DJOKOVIC VS ANDY MURRAY AUSTRALIAN OPEN MEN'S SINGLES FINAL SUNDAY 31st JANUARY 2016 – 0830 UK TIME   The Australian Open Men's Singles Final is here, after a tournament that has given fans everything they could have hoped for. The last two players left will do battle for the prize of winning the first Grand Slam tournament of 2016. After two weeks of thrilling action, it is the top two seeds that remain at the end with Novak Djokovic and Andy Murray set to meet each other in the final for the fourth time. Djokovic is the world number one, defending and five time Australian Open and has been simply brilliant in this tournament so far. He will come into this match as favourite, having already beaten Murray in three previous finals, but will know that he must play at his best if he wants to win a sixth title here. Murray has put impending fatherhood and family health issues to the back of his mind this past couple of weeks, in order to reach a fifth Australian Open Men's Singles Final and give himself the chance of winning the title for the first time in his career. He has played some brilliant Tennis and shown plenty of fighting spirit, but he knows he will need all that and more to overcome one of the greatest players to ever play the game. ROUTE TO THE FINAL DJOKOVIC (1) Round MURRAY (2) Chung 6-3, 6-2, 6-4 1 Zverev 6-1, 6-2, 6-3 Halys 6-1, 6-2, 7-6 2 Groth 6-0, 6-4, 6-1 Seppi (28) 6-1, 7-5, 7-6 3 Sousa (32) 6-2, 3-6, 6-2,...
---
Tennis, Tennis and more Tennis
Here at Tennis-Update.com we aim to provide you with every bit of information you need about the world of Tennis. From the origins of the game, through history and milestones and right up until today, we are the go to site for everything you need to know. We have information on the top tournaments, regular news updates, opinion pieces and up to the minute rankings lists to keep you up to date and in the know.
Top Players
Get closer to the top players than you've ever been before at Tennis-Update.com. We have in depth biographies of some of the highest ranked players in the ATP and the WTA, allowing you to read all about their histories and successes. We stay on the ball with regularly updated information and statistics so that you know everything there is to know about players such as Novak Djokovic, Andy Murray, Roger Federer, Serena Williams, Maria Sharapova and Simona Halep.
Tournament Facts
At Tennis-Update.com we will provide you with everything you need to know about the top tournaments throughout the year. You will learn the origins, traditions and facts. These include the story of the longest match in history between American John Isner and Frenchman Nicolas Mahut at Wimbledon in 2010, in a match that lasted a staggering 11 hours and 5 minutes.
If you love the game of Tennis you will love Tennis-Update.com. Believe us when we say, we are ace.